In the past 10 years, diabetes has grown nearly 50%, affecting nearly 17 million Americans. In addition to the health concerns for the individual and family members, the costs of this disease on a national level are felt both financially and economically. Diabetes self-management education has been proven to significantly promote patient health while reducing associated costs. As the primary source for diabetes education, traditional hospital-based education programs are being overwhelmed by the need to deliver up-to-date information to an expanding diabetic population.
In response to this urgent need, TEACH:diabetes has emerged as a cost-effective way to implement and manage a diabetes education program.
The TEACH:diabetes software is a state-of-the-art solution for delivering diabetes education to patients in a revolutionary way. The system combines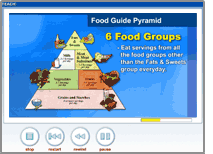 the newest technologies with the latest information available to provide a superior teaching tool. It features full screen video, narration, interactive exercises, vibrant graphics, and a uniquely intuitive touchscreen interface- all contained in a single package designed to provide users with an engaging and effective learning tool. To keep in step with the advancing forefront of diabetic treatment, all TEACH:diabetes content is updated on a regular basis. And since students often want to review what they've learned, all sections of the educational content can be printed out along with all important graphs and tables.
This education system has the ability to run in two separate operating modes. When used in public settings such as waiting rooms and lobbies,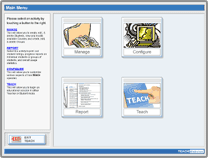 Teach functions as a traditional informational kiosk allowing users to browse through content by easily selecting topics that interest them. For more structured learning settings such as patient, staff, and continuing education, Teach offers a predefined program that guides users through one or more educational sessions covering all essential information contained within the system. Additional administrative features include the ability to manage users, track individual and group progress, profile student populations, create customized education sessions, and pre-schedule future educational sessions.
The TEACH:diabetes software can be used in a number of different hardware configurations to maximize effectiveness within your educational environment.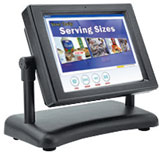 For simple installations, a tabletop touchscreen kiosk allows the system to be used in either a standing or sitting position. This allows for easy setup and transportation so that the system can be used in various locations or stored when not in use. For more mobility, TEACH:diabetes can be administered on an easily portable kiosk unit. This lightweight unit can be easily rolled to any location throughout the hospital and set up in a matter of seconds. It is designed to be operated comfortably from a sitting position (with wheelchair access), a standing position, or even while lying in a hospital bed. Additional hardware options are also available.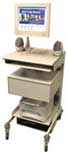 All hardware options include a number of distinguishing features that create a system that even the most technologically timid will find easy to use. Through the use of the intuitive interface and touchscreen display, patients can view educational material, advance through the system, and print out relevant materials without the need for a mouse or keyboard. The high-quality digital audio plays through amplified speakers that can be adjusted for patients with hearing limitations. Multiple kiosk units can be linked together so that large or dispersed groups of users can share a common database and administrative interface.
As the diabetic population continues to grow, the need to provide up-to-date diabetes self-management education is critical. However the time and resources required to conduct individualized education for each patient are making it an unmanageable task for health care and wellness providers. TEACH:diabetes is a powerful tool that allows for the implementation and management of a comprehensive diabetes education program with no increase in staff personnel or requirements.