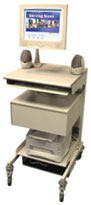 The TEACH:diabetes Pilot Program is designed to allow organizations to experience the full benefits of computer-assisted learning at a significantly discounted cost, and without any long-term commitments. Your patients will receive a robust and comprehensive introduction to diabetes self-management based on up-to-date American Diabetes Association guidelines. Your organization's educator will have full access to the educational and administrative features of TEACH, including the ability to manage users, track individual and group progress, profile student populations, create customized education sessions, schedule future educational sessions, and produce individual and population reports.
Please review the following details and requirements
. If you feel that your organization is a candidate for enrollment in the Pilot Program, fill out and submit the application below. If you would like to send the application to use by U.S. mail or fax, print out the PDF application below and use the instructions provided.
Click here to download the TEACH:diabetes Pilot Program Application
(Adobe Acrobat PDF - 113kb)





Flipside Media, Inc.
TEACH:diabetes Pilot Program
1050 Saxonburg Blvd
Glenshaw, PA 15116

Fax: (412) 492-8750